With 2020 in the history books as The Year of the Pandemic, you would have never known it by looking at the real estate market here in Las Vegas. And we are positioned for an even stronger year in 2021. Record-low mortgage interest rates are a major driving factor in this continued momentum, with average interest rates hovering at historic all-time lows. According to the latest Realtors Confidence Index Survey from the National Association of Realtors (NAR), buyer demand across the country is incredibly strong and Las Vegas is no exception. However, seller inventory is simply not keeping up with the demand. As the maps show below, buyer traffic is very high, but seller traffic is rather low. With so few homes for sale right now, this low inventory is creating a mismatch between supply and demand.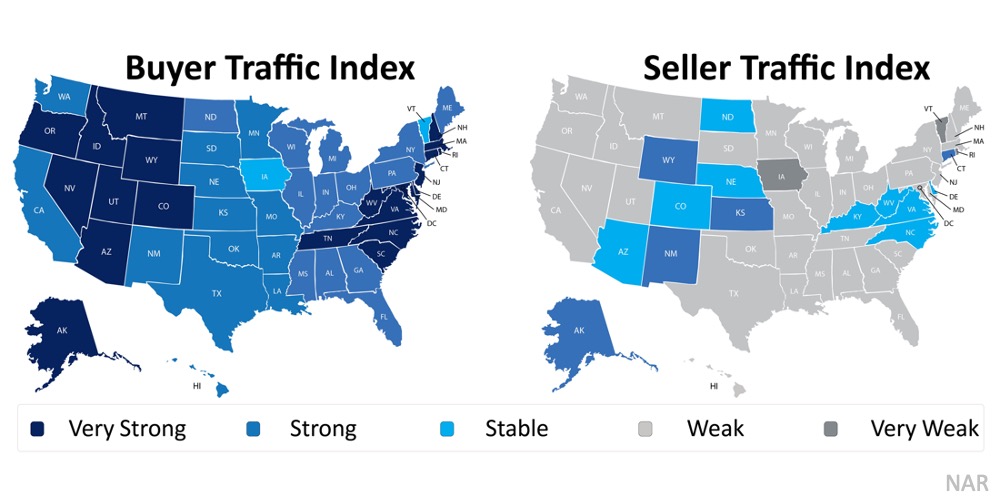 Coldwell Banker Premier Realty reports for December 2020: the year end float of for-sale homes is the lowest it's been in recent history. Over 2,500 new listings came to market in December, while almost 2,900 homes went under contract that same month. This is a 23% increase from December 2019. Closed sales of 3,314 homes in December was a 27% increase since last year (and a 9% increase in November, just the month before.) The median sales price of homes in Las Vegas in December remained the same as the month before at $345,000 but up 10.2% since December of last year.
What does this mean for buyers and sellers?
Buyers, put on your boogie shoes, we gotta do the hustle! Be ready to act immediately once we find the right home (bidding wars are more common when so few houses are available for sale.)
Sellers, its your game. Why wait until spring to put your houses on the market when high buyer demand and a low inventory is the perfect conditions to sell a house on optimal terms?
Bottom Line
The real estate market is entering the year like a lion. There's no indication it will lose that roar, assuming inventory continues to come to market.