What's up with new construction? There seems to be a certain default to previously-owned when folks talk about buying a home. However, with so fewer houses for sale today, it makes sense to consider all your options, and that includes buying a newly built home.
The Number of Newly Built Homes Is on the Rise
We've talked about inventory before. While there are more houses for sale right now than there were at this time last year, there's still a historically low number of homes available on the market. There's a bit of a twist when it comes to newly built homes — the number of units completed has been below average for the past 14 years. Yes, it wasn't just the pandemic, all. The good news is, the number is on the rise.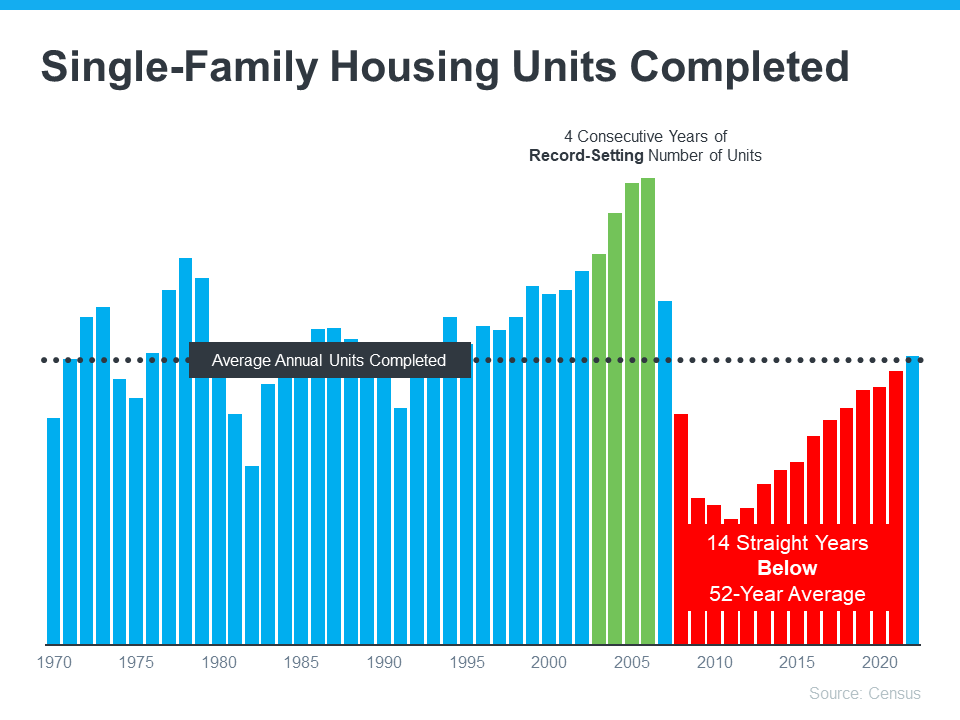 Take a gander at the graph above. You'll see the 14 year period that was below average, but it also shows another important trend: the number of new homes being built each year is on the rise. Such good news for potential buyers!
Builder Incentives Can Provide a Boost
We love incentives! Because builders want to ensure homes are sold before adding to to their inventory — and their mortgage rates might be slightly higher — they provide incentives to buyers. The perks might include things like mortgage rate buydowns and price reductions. That mortgage rate reduction alone has the same impact as an 11 percent decline in house prices. Whoa!
Should You Buy a Brand-New Home?
So the ultimate question, should you buy a newly built home? The answer may not be super cut and dry for you, which is where I come in. The best way to decide what type of home to buy is to work with a real estate professional who can help you weigh the pros and cons of each option. They know which homes are available in your local market, and which builders might be offering incentives that make sense for you.
Bottom Line
Even though there aren't a lot of homes for sale today, new home inventory is on the rise, and many builders are offering incentives. Let's connect so I can help you weigh the pros and cons of shopping for a new home versus an existing one.