It's no secret that there are many costs associated with buying a home — it is after all, one of the biggest purchases you will make. If you're getting ready to buy your first home, you're likely focused on saving up for everything that purchase involves. Most likely, you've saved those pennies a down payment, right? Well, there may be some misconceptions that want to make your life more difficult.
Let's clear those up and get your on your home buying journey!
Understand 20% Isn't Always the Typical Down Payment
The 20% myth has been passed down for ages and you've likely heard it before. So what's the actual amount to shoot for? According to the National Association of Realtors (NAR), the median down payment hasn't actually been over 20% since 2005. In fact, the median down payment today is only 14%. And it's even lower for first-time homebuyers at just 6%. How awesome is that?!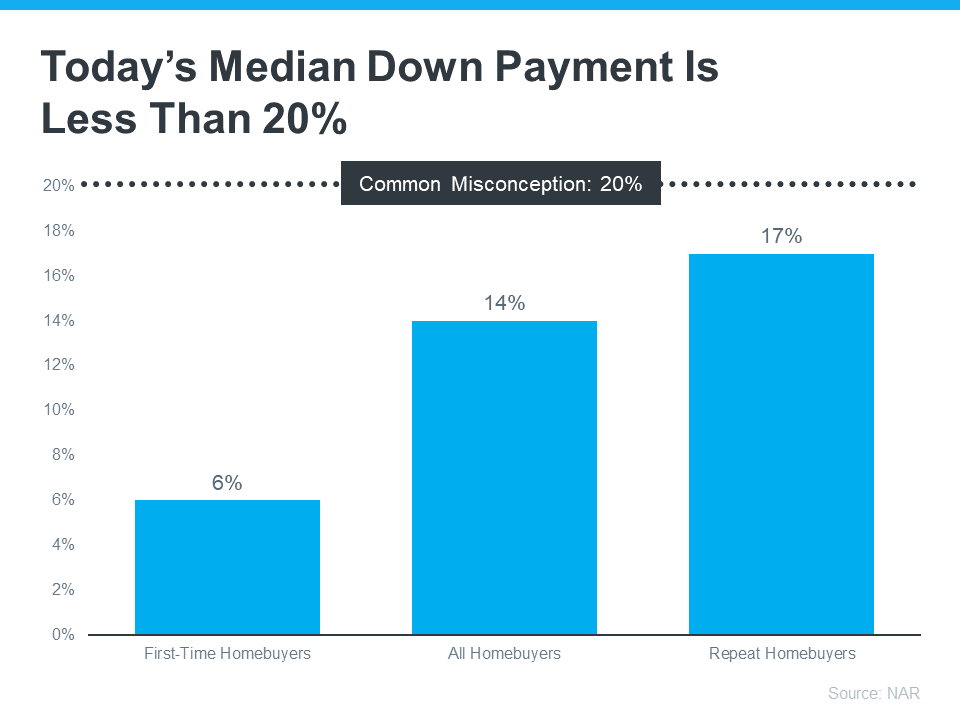 Learn About Options That Can Help You Toward Your Goal
Buying a home can seem like it is something out of your reach. Never fear, friends! There's help available! A real estate professional (nice to meet you!) and trusted lender can show you options that could help you get closer to your down payment goal. There are over 2,000 homebuyer assistance programs in the U.S., and the majority are intended to help with down payments. Can the news get any better? I think maybe it can!
There are specialty loan types, like FHA loans, with down payments as low as 3.5%, as well as options like VA loans and USDA loans with no down payment requirements for qualified applicants. Yes, yes, and YES!
While this is super exciting and it makes homeownership within reach, be sure to do your homework. If you're interested in learning more about down payment assistance programs, information is available through sites like Down Payment Resource. Then get in touch and we'll start your journey!
Bottom Line
Remember, a 20% down payment is mostly mythical and isn't always required. If you want to purchase a home this year, let's connect. You'll also want to make sure you have a trusted lender so you can explore your down payment options.