Saving your pennies up to buy a home is a project, all! Other than the (obvious) cost of your home, there are other expenses like down payments and closing costs to look out for. Cue the sunshine and rainbows, there's good news — your tax refund can help you achieve your goals by paying for some of these expenses.
It's estimated the average American will receive a $1,798 tax refund this year. That's a lot to put in the proverbial piggy bank! Take a look at the map below that provides a more detailed estimate by state: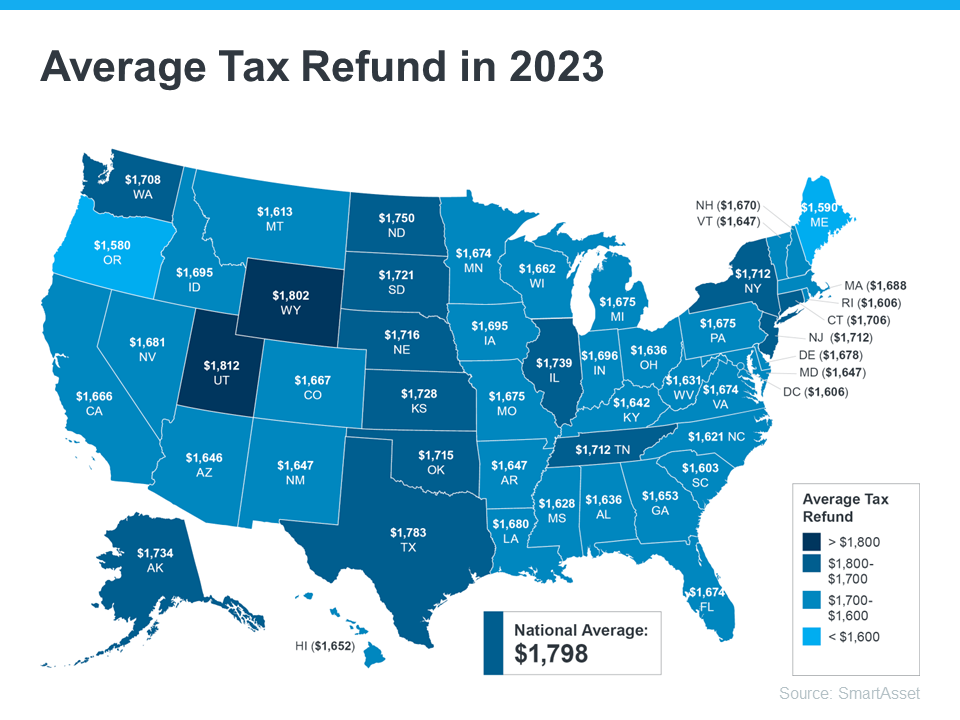 What Are Your Options?
There are multiple ways your refund check can help you as a homebuyer, which unsurprisingly relate to those other expenses I mentioned earlier. If you're getting a refund this year (congrats!) and thinking about buying a home (again YAY), here are a few tips to keep in mind:
Saving for a down payment – One of the largest barriers to homeownership is saving for a down payment. You could reach your savings goal more quickly than expected by using your tax refund to help with your down payment.
Paying for closing costs – You have to pay fees to your lender, real estate agent, and other parties involved. You could save your tax refund and direct the amount toward those expenses.
Lowering your interest rate – Your lender might give you the option to buy down your mortgage interest rate during the home buying process. That means, you could pay upfront to have a lower interest rate on your fixed-rate mortgage. Always a win!
The best way to prepare to buy a home is to work with a trusted real estate professional who understands the process (and advocates for meetings over guac and margs). They'll help you navigate the costs you may encounter as you begin your home buying journey.
Bottom Line
Awesome news! Your tax refund can help you reach your goals of homeownership. Let's connect to discuss how you can start your journey today.