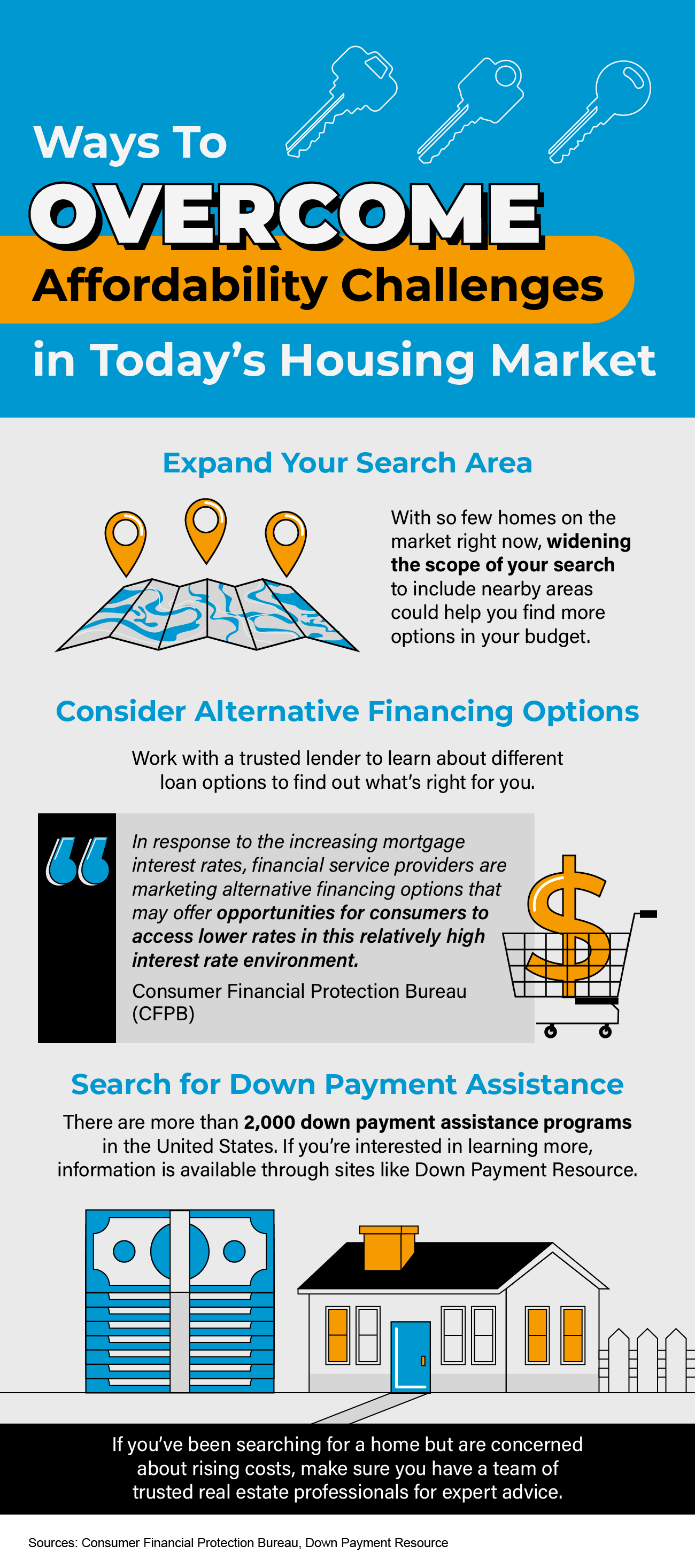 Some Highlights on Ways To Overcome Affordability Challenges
In today's competitive housing market, finding an affordable home might seem like a daunting task. The limited inventory and rising costs can make it challenging for prospective buyers to secure their dream homes within their budget. However, fear not! There are effective ways to overcome affordability challenges and turn your homeownership dreams into reality.
Expand Your Search
With so few homes on the market right now, widening the scope of your search to include nearby areas could help you find more options in your budget.
As the saying goes, "Don't put all your eggs in one basket." The same holds true for house hunting. With the current scarcity of homes on the market, it's crucial to expand the scope of your search to include nearby areas. While you might initially have your heart set on a specific neighborhood, widening your search can open up more options that fit your budget.
Explore adjacent neighborhoods that have similar amenities, school districts, and community vibes. You might discover hidden gems that offer a better value for your money. A trusted real estate agent, like yours truly, can be your knowledgeable guide in identifying these potential areas.
Explore Financing Options
You can also work with a trusted lender to consider alternative financing options and search for down payment assistance.
Collaborating with a reputable lender is an essential step in overcoming affordability hurdles. A trusted lender can help you explore alternative financing options that align with your financial situation. Consider options like FHA loans, VA loans, or USDA loans, which often have more lenient down payment requirements.
Additionally, your lender may advise you on different mortgage programs that offer competitive interest rates or even specialized assistance programs. Remember, knowledge is power, and arming yourself with information about these financing possibilities can empower you to make informed decisions.
Build a Trusted Team
If you've been searching for a home but are concerned about rising costs, make sure you have a team of trusted real estate professionals (hello, Bethany here!) for expert advice.
As your dedicated real estate expert, I can help you strategize, negotiate, and stay ahead of the market's twists and turns. With access to an extensive network of resources, I'll keep you informed about new listings, upcoming opportunities, and potential incentives that suit your budget.